"It's pure theatrical poetry - in it's ambitions, concerns and form - and poetry in the theatre is as startlingly unexpected as spiritual honesty in everyday life."  Georgia Straight - Vancouver, Canada
theater simple balances the grotesque with the sublimely elegant, juxtaposes absurdity with profundity and makes light of darkness. Superb. Adelaide Advertiser, Australia
"One of the Great Theater Events
of the Decade"   The Stranger
Satan comes to 1930's Moscow, but he's not the devil we think we know...
theater simple shakes up a philosophical Molotov cocktail with shots of magic realism, vaudeville, the Bible and live music in this original adaptation of Mikhail Bulgakov's final masterpiece. Banned then censored for over 30 years, it has become one of the most influential novels of modern Russia.
theater simple re-examines their award-winning take on Mikhail Bulgakov's satire for 2019.  Originally staged in 1997, M&M toured for 4 years. Recipient of the FRINGE AWARD for BEST PLAY at the 1998 Adelaide Fringe, M&M has been theater simple's most requested work, and given the state of global politics,  ripe for re-examination. 
THE very basic-est BASICS: (imagine matryoshka or nesting dolls - a story in a story in a story) 
1932: The Devil comes to Moscow, demonic entourage in tow, to learn if Stalin's politics have actually changed human nature... And to find a hostess for his annual Devil's Ball. These stories are tangled up with an alternate telling of a fateful meeting with Pontius Pilate.
5 actors take on the challenge of 35+ characters, with on-stage musicians playing a brand new score by Brent Arnold. 
A headlong experience adapted from the novel by Mikhail Bulgakov, this 90-minute pell-mell rollercoaster features one trunk, 3 screens, and a hard-working ghost light.  [cast: Nathan Brockett, Jennifer Faulkner, Llysa Holland, Monique Kleinhans & Teague M. Parker. Musicians: Scott Adams and Mary Gross.]
"engrossing - This is the kind of apparent simplicity that demonstrates real theatrical sophistication - an invitation for an audience to take a leap of the imagination. A stunning combination of stagecraft and storytelling." The Edmonton Journal
Originally created in 1997, it toured to sell-out engagements at festivals across Canada, made an SRO appearance at Seattle Repertory Theater during Bumbershoot, sold out at the Adelaide Fringe, where it was named Best Play of the '98 season.. During a run at Spoleto, in the Piccolo Theatre Series,  had an opening night visit by the resident theater ghost! Seriously! The South brought the gothic!)

Celebrating theater simple's 29th year of making things, The Master & Margarita ran amok at The Edmonton Fringe in August 2019. In the past, theater simple has custom-built three different venues for this production (one in a bomb shelter, one a bar in a former synagogue and one a former naval brig -which was pink.).
 
WANT TO HELP?!  Please consider donating to theater simple to support this project and its tour by clicking here for the Shunpike link - or by encouraging the presenters in your town, college, university to PRESENT US - we are starting to organize a tour outside of Seattle NOW... (hello, World...)
Credit is due: Originally adapted and devised in 1997 by theater simpletons Amy Augustine, Rachel Katz Carey, James Cowan, Llysa Holland, Monique Kleinhans and Andrew Litzky (additionally - on tour we had the pleasure of Martin Buchanan to fling about nekkid as Ivan); Directed by Rachel Katz Carey. Original music by Brent Arnold; lighting design by Jason Meininger, supplemental translation/dramaturgy by Chris Albus with set design by Paul Boehlke.
OUR FAVORITE TRANSLATION:
Diana Burgin and Katherine Tiernan O'Connor's 1993 edition for Ardis Publishing. OMG - Ellendea Proffer's notes - what a team! (But - they are all pretty interesting for varied reasons... always fascinating to read the translation bias.)
CRITICAL RAVES
FRINGE AWARD: BEST PLAY    5 stars 
 "this vigorous Seattle company delivers the quality goods once again ...theater simple balances the grotesque with the sublimely elegant, juxtaposes absurdity with profundity and makes light of darkness. Superb."  The Adelaide Advertise
"The company launches into the text with a sort of ingenuity that makes you laugh out loud - the journey has so much interesting scenery that you're sorry to have it come to an end." The Seattle Weekly
"A heap of giddy inventiveness... satire predominates, but also slapstick comedy, music-hall hijinks, historical pageant, hallucinatory surealism, low tech special effects and rarified philosophy. Ingenious."  The Seattle Post-Intelligencer
"theater simple conjures huge effects from the tightest economy... broadcasting magic more evocatively rich than the high-dollar confections seen on main stages elsewhere around town. Director Rachel S. Katz choreographs the carnival complexity into a flawless movement."  Seattle.sidewalk.com
"Treat yourself to the Master & Margarita . It's pure theatrical poetry - in it's ambitions, concerns and form - and poetry in the theatre is as startlingly unexpected as spiritual honesty in everyday life.  Georgia Straight - Vancouver, Canada
.. An extraordinary piece of work from a team of artists who are establishing themselves as true masters of the Fringe." The Province - Vancouver, Canada
"theater simple magically transforms an almost bare stage - it makes you want to go back and see it again and again." Edmonton Journal 
"A polished gem - If you catch - and you must - theater simple's engrossing version of The Master & Margarita, you'll see a company with it's wits about them - and the Fringe at it's finest....a supple, hallucinogenic production that uses the simple resources of a Fringe stage with great panache. This is the kind of apparent simplicity that demonstrates real theatrical sophistication - an invitation for an audience to take a leap of the imagination. A stunning combination of stagecraft and storytelling." SEE Magazine,  Edmonton, Canada
"a theatrical yarn that is positively exhilarating in scope, structure and sheer energy. Nothing short of an amazing performance spectacle. If you're going to see one show at the Fringe, go to this one." The Edmonton Sun, Edmonton, Canada
" - magic, vaudeville, tragedy and stark drama are all used by this superb troupe to tell this vivid tale ...seamless direction - ingenious and theatrical. A memorable fringe experience - don't let this one get away." Saskatoon Star Phoenix '5 Stars!'
" ...theater simple's Master & Margarita does what this company is unsurpassed at: taking difficult, inspiring texts and turning them into engaging and challenging performances. ..taut and voluptuous at the same time. Everything they do onstage is interesting. A wonderful piece of theater beautifully realized. " Winnipeg Free Press
"...lightning speed, detailed finesse- vital, strong and committed. The direction is crisp, clean and tight. A play for the fringer on the prowl for quality. " CBC Radio Saskatoon 
"RIVETING! Brilliantly done! Brilliantly done! EVERYBODY should see this!"
THE MASTER & MARGARITA: 2019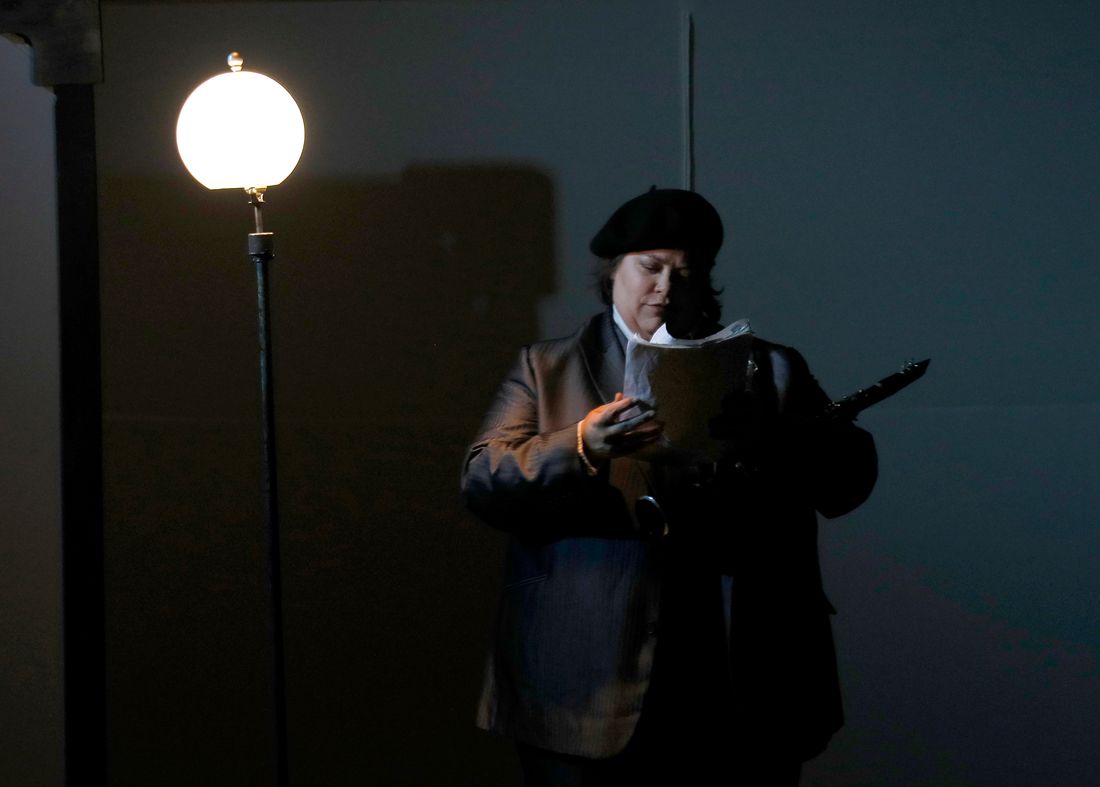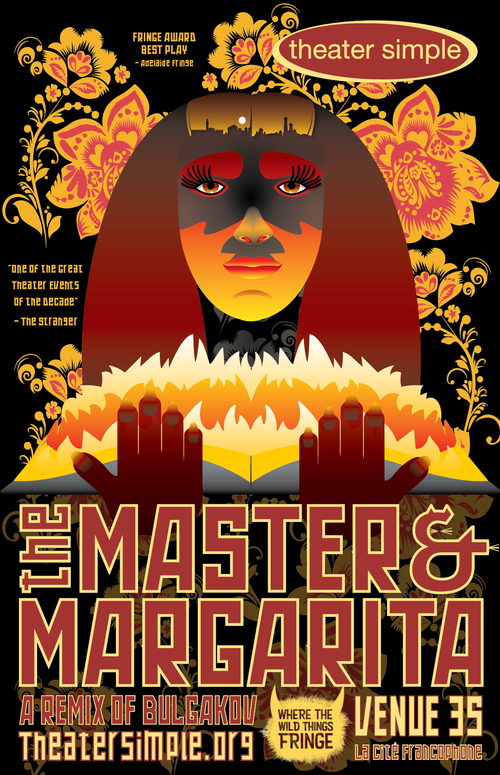 CRITICAL RAVES (con't)
"5 talented actors, 13 lights, a simple set and a handful of props - a wild, chaotic, nightmare-drenched hallucination - razor sharp and air tight. Characters and scenes transform in an instant, gallop away and then return to their starting point with a symmetry that is breathtakingly unexpected yet inevitable." The Stranger, Seattle 
"A surreal, carnival-esque tone - a fantastically and darkly funny story in which the various characters and plots twist, wend and unpeel on their way to making the author's points. Remarkable. It's one of those rare plays that you still contemplate days after it's over. "  The Seattle Times
" - glittering, gripping - 90 minutes that grab the audience and shake it up. It presents story within story, truth within lie, lie within truth, good within evil, asking questions, forcing reconsiderations - all cohere into a magnificent whole. Don't miss it." CBC 24 HOURS
Pick of the Fringe 
AWARDS
FRINGE AWARD - BEST PLAY - 1998 Adelaide Fringe  (in a venue theater simple curated, that SWEPT all three Best Play Awards) 
BEST SHOW  - Victoria & Vancouver Fringes 
(also, awarded Moby-Dick-in-a-Goldfish-Bowl prize for Adaptation in Victoria) 
One of the Five Best Things to Happen in Seattle Theater in 1997 - Seattle Weekly 
Footlight Award  - Seattle Times 
Best Of the Fringe or Critic's Pick by : 
    Winnipeg Free Press,  CBC Radio(Saskatoon & Edmonton), CBC TV(Winnipeg, Saskatoon, Edmonton) Edmonton Journal, 
Edmonton Sun, Victoria Times-Colonist, The Georgia Straight, The Vancouver Sun, The Province, The Stranger, Seattle Times, 
The Seattle Weekly and Seattle.sidewalk.com , Adelaide Advertiser(AU), Sunday Mail (AU), ABC-TV(AU)