Out of the Box
You must not ever stop being whimsical.   Mary Oliver 
Some of what we do is slippery to categorize-
~ park adventures that can be performed with and for the community along rivers or parks, and other public spaces
~ civic-planning charettes,
~ cumulative installations that aggregate into podcasts,
~ spectacles that can translate into museums,
~ producing showcases and festivals
~ daydreams that turn into 2-day long wishes for Make A Wish...

In these pages, you can have a look at a few different ideas. If you are looking for your own special 'something', and it's not quite here, let's talk.   Perhaps we can create it with you.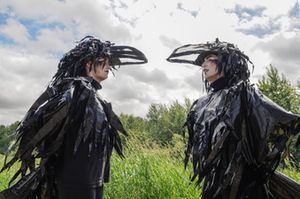 We build from the imagination up.
theater simple was founded with the goal of stripping the theatrical experience down to its elemental parts:
   ~ the

imagination

of the actor and audience,
   ~  the playwright's

words


   ~  and the ensemble's vision.
For our
OUT OF THE BOX
work, theater simple has built an award-winning rep by creating
interactive public events
, aimed
to inspire community dialogue linking ideas and art with daily LIFE. 
We work outside of the box,
thinking globally and acting locally.
We create theater. Simple.