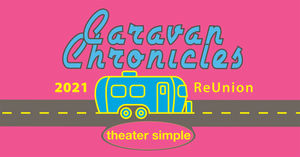 about Caravan Chronicles (aka Trailer Tales):
We have families of blood, we have families of choice, and we have families of circumstance. And no matter where we go in the world, we find connections and shared values with 'family' we simply haven't met yet. 
Last spotted SEPT 2021: Many many thanks to Tacoma Arts Live, Tacoma Creates, Columbia Bank and Pierce County Parks for having us come together with your neighborhoods in August! GREAT people made GREAT events!
"A piece of wildly original interactive installation theatre...with stories, hospitality and haikus.  Warm-hearted, inclusive fun gently underscored by a universal message: families are all about shared memories, rituals and acceptance. Let us not take them for granted." Adelaide Advertiser, AU

This is a family reunion, disguised as an intimate interactive public art event, set in and around a vintage trailer. Audience members become part of the 'family' at a semi-traditional (and highly idiosyncratic) family reunion, contributing to the family lore with story-plates, memories and haiku of their own. As the installation continues, the stories (and plates) accumulate and the family becomes richer and more connected.
So, come visit Wally, the globe-trotting vintage 1962 Airstream, hang out at the marshmallow roast, and eavesdrop on 'cousins' gossip. We know you'll enjoy exploring the stories and customs of this sprawling, oddly familiar clan as you swipe a melon ball and add stories to family mythology.
 
Caravan Chronicles: ReUnion/Trailer Tales
In the BEFORE times...
NOVEMBER 2019:  theater simple & Caravan Chronicles selected by US Embassy to perform at a national theater festival in CENTRAL ASIA in Nov 2019! (SEE BELOW for more info, AND SHOW PICS TO THE RIGHT)
Production HISTORY:  Our first COVID FAMILY REUNION was in Indiana, PA in April, 2021. We've held reunions in Washington State, with a Cultural Congress, in and around Adelaide, South Australia, during the KidsFringe at the Adelaide Fringe, and were proud to represent the US at an international festival in Ashgabat, Turkmenistan! We'll be in the greater Seattle area Summer 2021 - WHEN CAN WE COME TO YOUR TOWN?
 
above: a video with student narration of some of over 600 plate stories and haiku we collected in the 3 weeks in Adelaide, AU
NOVEMBER 2019:  theater simple selected by US Embassy in Turkmenistan to perform at a theater festival in CENTRAL ASIA

theater simple was honored and thrilled to have been selected by the US Embassy in Turkmenistan to present their original show CARAVAN CHRONICLES  in the capital city of Ashgabat in mid-November 2019.
Featured as part of the festival of "Theatrical Art of the Epoch of Happiness", organized by the Turkmenistan Ministry of Culture, the simpletons conducted an acting workshop with the National Theater School and shared a theater-making workshop at the US Embassy as well, participating in an exchange between Turkmenistan and American theater culture.  Alongside members of national theaters from Turkmenistan, Kazhakstan, Tajikistan, Uzbekistan, Afghanistan, Iran, Ukraine, Turkey and Russia, the simpletons toured priceless archeological treasures in the National Museum, were stunned by the beauty and craftsmanship of rugs at the National Carpet Museum and were feted at the opening of a remarkable presentation of theatrical and fine arts at the National Art Gallery. To be honest, though, our most valued activity was having off-hour conversations with these artists on the side, discussing art and politics, rehearsal and performance practices and making creative friends.
(And often seeing them over breakfast at early hours or running into them while shopping.)
DREAM TEAM: Traveling along  theater simple founders Llysa Holland and Andrew Litzky were veteran simpletons K. Brian Neel (52 Pick Up, The Snow Queen, Trailer Tales), Shermona Mitchell (Camino Real) and London-based lighting whiz Jason Meininger (The Master & Margarita, Caucasian Chalk Circle, 52 Pick Up).  This was an adventurous art-posse up for several creative challenges (re-configuring the outdoor show  TRAILER TALES at the request of the Embassy into the great Indoors of the gorgeous 800-seat National Theater! Plus 338 subtitle cards, translated into Russian) and cultural adventures.  And you know - two looong international transits, after 60+ interviews between all of us for national TV, radio, newspaper and a youth-blog, after decompressing in Istanbul - this crew can handle ANYTHING.
What was fun?  "It's crazy and amazing that we had this opportunity – but the experience was incredible, full-on and beyond imagining to be joining that amazing lineup of national theaters from the region. AND still - we managed to eat a traditional Turkmen meal in a yurt, squeezed in time to visit the archeological ruins built by Alexander the Great, ate more great food, and shopped for a carpet. We're also visited Istanbul, since we were travelling thru and decided to take 2 days to decompress. WE WANT TO GO BACK.", says Holland.